In this guide, you'll learn
Call-center leaders face a persistent problem with staff attrition. According to The US Contact Center Decision-Makers' Guide 2021 by ContactBabel, there is a very wide spread of attrition rates across the industry, with 26% of respondents having to deal with attrition rates of over 30%.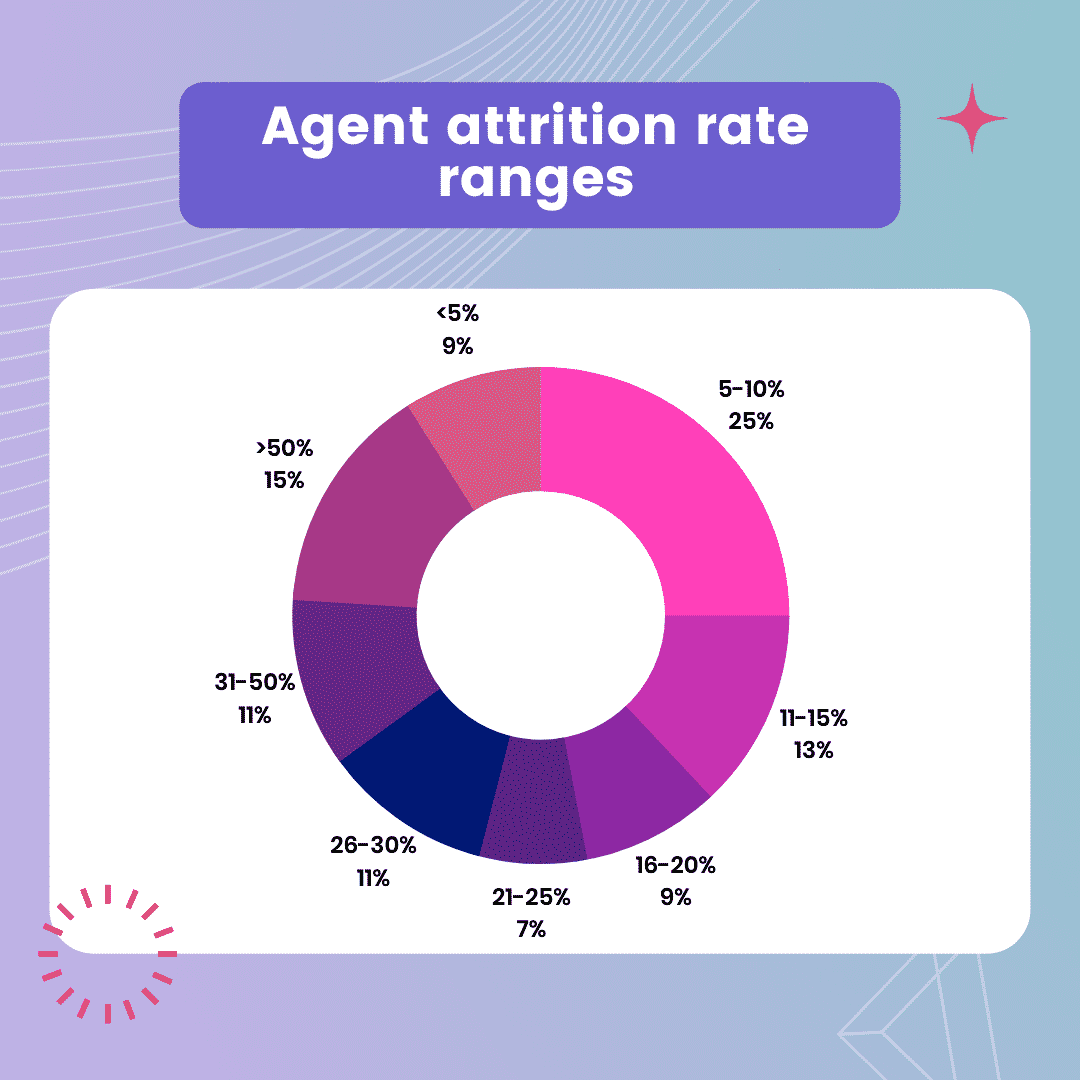 Attrition rate: what is it and how is it measured?
Call center attrition is the process of the contractual end for an individual working in a specific job in a call center. The attrition rate can be calculated by dividing the number of resignations by the average number of employees in that period.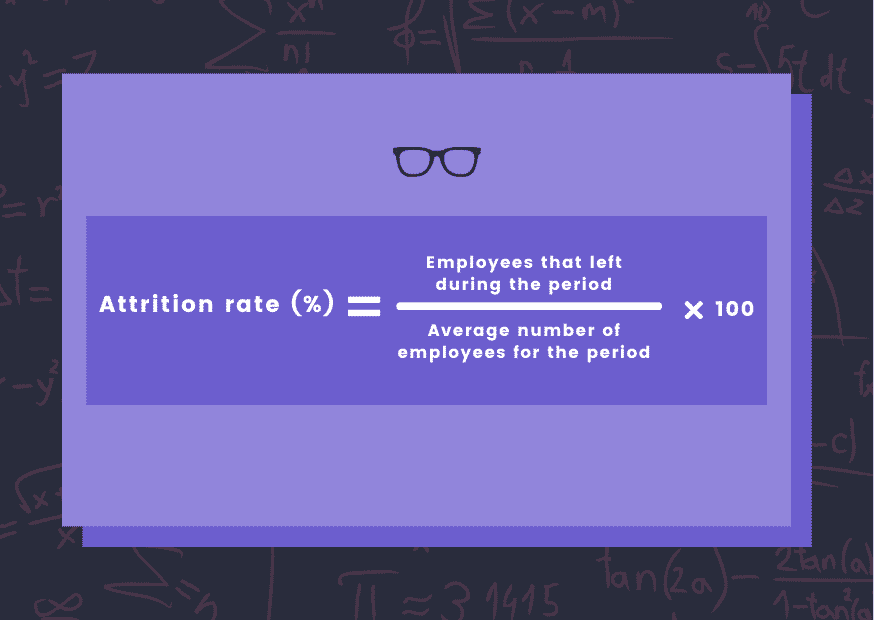 This value can be expressed as a percentage, or in terms of how many workers left during that period, per 100 workers.
Attrition rate calculator
You can calculate your call center attrition rate using this simple calculator:
The 5 reasons why call center attrition happens
Why do call centers have a high turnover?
Today's work market is very competitive. The last thing call center managers want to deal with is having to rehire their best employees and start from scratch. However, the problem of call center attrition persists. Having a better understanding of why employees leave can help reduce turnover. And knowing why it's a problem can help you change the course of events.
Talent retention should be a top concern in an organization's overall business strategy, especially when considering how costly it is for a firm to replace employees with new ones.
Despite the fact that your firm and call center could be unique, major industry challenges tend to reoccur. What are the problems you expect to face at your call centers, and how would you intend to solve them? We'll go through five of the most prevalent call center attrition issues and how to overcome them.
1. Insufficient training
When you hire new people, you might be tempted to rush them through their training so you can get them to work right away. However, this is a prescription for the crisis. You're preparing to send someone to work in the customer service department. It's a very stressful career that entails dealing with unsatisfied customers while working with new technologies and solutions. Having a "sink or swim" mindset in this situation will make a lot of new staff quit because they can't handle the stress.
Bringing your new employee into your company's culture can't happen without proper training. What does it say about you and your company if it's hurried, haphazard, or incomplete?
Workplace harmony and cooperation may be fostered via training, which helps new employees settle into the team. Make sure that your training program doesn't suffer because you're in a rush to park someone in front of a phone. Give your new employees the time and resources they need to succeed.
2. Less career development opportunities
High-achieving employees just want to advance in their careers, take on new challenges, and learn new skills. A high wage isn't the only thing that motivates them; they also want to master their skills and understand that they have a clear path to growth at your company.
Employees who aren't aware of advancement prospects or who aren't treated fairly because of politics in the workplace will leave your firm in droves, resulting in a high attrition rate. They'll also leave if they don't believe their organization offers these kinds of advancement opportunities.
3. Micromanagement
When the management team of a contact center sets rigorous standards and overly supervises staff, staff turnover tends to increase.
Employees today, whether they're in the office or working from home, expect a certain amount of freedom and confidence that their tasks will be done properly.
Micromanaging, disempowering, or neglecting them in their employment is not what they want. As a manager, you must be able to communicate effectively, with just the appropriate degree of transparency, provide regular feedback, and avoid being distracted by flashing your own light.
When employees are encouraged to collaborate and solve issues, it creates an environment that is hospitable, varied, and innovative.
4. Neglecting to prioritize employees
What are the challenges of working at a call center? Every time an agent does anything, they're forced to deal with a stressful circumstance. Customer dissatisfaction, increased AHT, poor morale, and a host of other issues put pressure on customer service representatives. Agents find it difficult to increase their performance when they rely too much on conventional measures because they disregard quality and overwork staff.
In order to better serve their clients, successful call centers are increasingly focusing on the well-being of their own employees.
5. Toxic workplace
In a toxic workplace, productivity is not the only thing that suffers, but so do relationships at all levels. It has an adverse effect on coworker relationships and may even have a detrimental influence on client interactions, resulting in brand harm and perhaps a loss of business.
A toxic work atmosphere may harm personal relationships as well. It's simple to understand why this is a certain way to lose your finest talent.
Developing a strategy to reduce call center attrition and motivate employees
Hire the right talent
In the course of an interview, make sure that possible workers have the relevant abilities and expertise. Determine if the possible employee is capable of handling the job's demands by asking in-depth questions about their capabilities and past work experience. A realistic job description and the opportunity to talk with potential coworkers during the interview process should be provided for candidates.
Interviewees should be informed if there is no room for progression in their chosen position. The number of new employees who quit because they are frustrated with the lack of development potential may be reduced by being open and honest about the company's plans.
Encourage genuine feedback
Monitoring regularly can be a valuable retention and performance management strategy. Just by saying, "You matter," you're showing your staff that you appreciate their views, ideas, input – and effort. People stay longer and perform better when they feel appreciated.
In addition, real-time feedback enables you to identify small problems before they turn into major mistakes or misconceptions, enabling the employee to adjust their actions. It also allows you the chance to engage in discussion with folks who would otherwise be reluctant to seek assistance.
Prepare your leaders to lead well
It's important to address any concerns you have about leadership – individuals who have to understand and motivate call center workers of all ages and backgrounds—address this before they get out of hand and escalate.
Leaders need to have open discussions, get criticism, and be given the tools they need to succeed in their role of overseeing their team's performance. For example, they may be feeling overworked and need a helping hand or mentoring to assist them to improve their management abilities.
Create opportunities for advancement
As previously said, workers must feel confident that they will have opportunities for advancement inside your organization. In order to motivate call center agents, you should assist them in setting up a career plan.
While this approach doesn't always need to include a five- or 10-year plan, it should provide workers with the opportunity to concentrate on the abilities they'd want to improve.
An effective technique for retaining workers, preventing mental health, and lowering stress among call center employees is to foster a culture of continuous training and provide them with opportunities to advance their careers through training.