The last few years have seen some of the largest crises in the last 20 years, having a significant impact on our existence both economically and psychologically. In 2020, Covid-19 led to a significant slowdown in global economic activity and a sharp decline in demand, causing a decline in inflation rates and finally a global recession. In fact, there have been five global recessions since the Second World War and one of them was in 2020. As the world started to recover from the epidemic in 2021, the economy witnessed a robust recovery, which increased demand and prices and increased consumer demand for products and services.
In 2023, according to the International Monetary Fund, inflation is peaking amid low growth. What is more, global growth is anticipated to decrease from an estimated 3.4% in 2022 to 2.9% in 2023, then increase to 3.1% in 2024. The prediction for 2023 is 0.2% higher than that of the October 2022 World Economic Outlook (WEO), but it is still below the historical (2000–19) average of 3.8%. It is important to note that fuel costs, food expenses, and practically every stage of the supply chain are all being impacted. As the labor pool looks for better-paying jobs, which crucially affects contact centers by seeing decreased application rates and wrenches in keeping customers happy and employees engaged.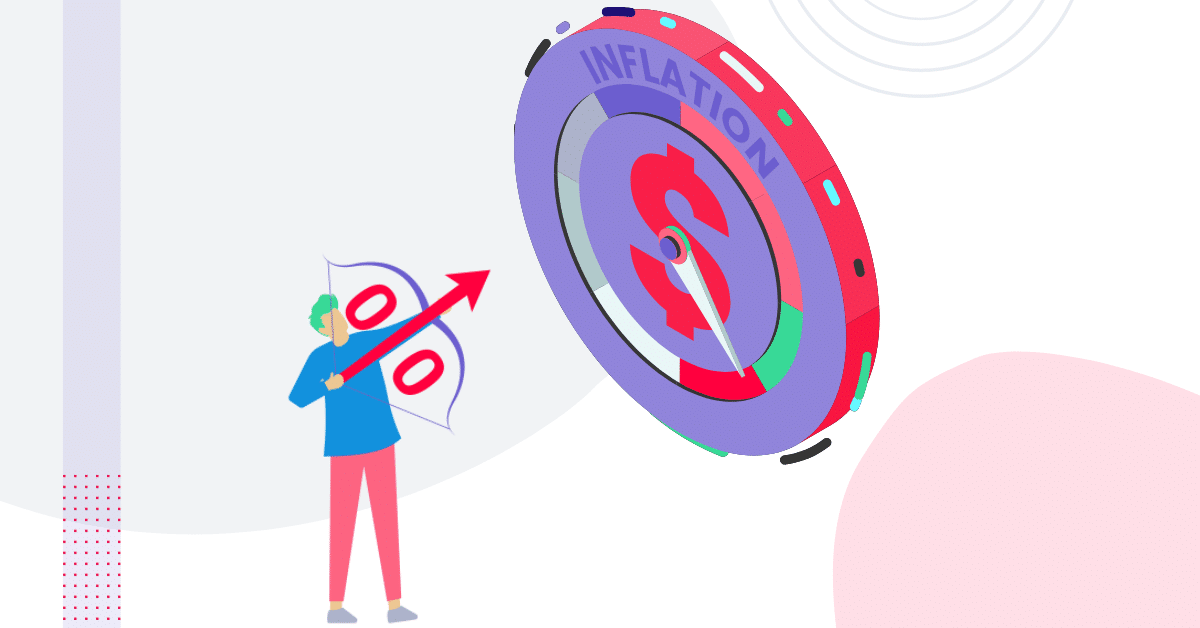 How does inflation affect call center managers?
The task of hiring, training, and supervising people to deal with customer service difficulties falls within the purview of a call center manager. By giving clients outstanding service and encouraging their employees to do the same utilizing important metrics, they set, meet, and surpass targets. Brands are doing every effort to keep agents seated as a result of the inflation, which also increases the daily workload for call center managers. What is more, being a good call center manager includes having responsibilities and skills such as collecting and analyzing call-center statistics, and supervising everyday activities and staff with the goal of maximizing efficiency and cost-effectiveness.
All in all, being a call center manager is not an easy job. What is more, statistics show that only 38% of call center managers on average say they enjoy their jobs and stay for one to two years. Taking everything said into consideration does the low rate percentage have anything to do with the remuneration call center managers receive?
History and basis of call center manager's salaries 
Over the years call center managers' salaries vary mostly based on a variety of crucial elements, including schooling, credentials, supplementary abilities, and the length of time they've been in your line of work. 
Over the last few years, there have been major changes in call center manager pay. Data from the Bureau of Labor Statistics (BLS) and other sources gives a basic picture of changes in call center manager pay, while the precise amount might vary depending on a variety of variables like experience, region, and company size. 
According to the BLS, the median annual compensation for call center managers in 2018 was $51,560 USD. This amount rose to $54,610 USD by 2020, an increase of only 5% over the previous two years. The COVID-19 epidemic has significantly impacted the economy and job market, especially the call center sector, which is vital to mention. As a result, given the substantial transition to remote work that has occurred, the average wage for call center managers may have altered significantly before 2020.
In terms of location and experience, there are also some huge differences, for instance, salary levels for those with more experience than those with less experience are typically greater. The average compensation for a manager of a call center with 5 to 9 years of experience is $57,000 USD, while the average salary for a manager with 10 to 19 years of experience is $64,000 USD.
How much call center managers make in 2023
As previously stated, the location has a significant impact on the call center manager's pay. The average yearly salaries in Switzerland vary around $127,704 USD, whereas in Nepal it is $11,954 USD.
United States 
A call center manager may anticipate earning $92,986 a year in the US in 2023, with an average salary of $65,774. However, each city's location within a specific nation also matters, for instance, the most typical wage in Orlando, USA, is $52,000 USD, yet it is almost double in San Francisco, at $102,000 USD. 
Western Europe
The pay range in Europe is very comparable to the one in the US. In Western Europe, the typical compensation for an entry-level call center manager in Germany (1-3 years of experience) is 33.987 € ($36,472 USD). A senior-level call center manager, on the other hand, has an average income of 76.686 € ($82,294 USD) (8+ years of experience). The average gross pay for call center managers is 60.305 € ($64,715 USD) yearly, which works out to a wage of 29 € ($31 USD) per hour. Additionally, they receive a bonus that is typically 5.325 € ($5,325 USD). Salary projections based on anonymous employee and employer responses to a salary survey conducted in Germany. 
Southern Europe
In Southern Europe, for example, Spain the starting salary for a call center manager with less than 2 years of experience is 21.480 € ($23,051 USD). On the other hand, a senior-level call center manager has an average salary of 51.600 € ($55,562 USD) and has eight or more years of experience. Furthermore, the minimum monthly payment for a call center manager is 1.580 € ($1,695 USD), while the maximum monthly pay is 5,440 € ($5,837 USD). 
Eastern Europe
In Eastern European countries, such as Hungary, entry-level call center managers typically make 4,162,800 HUF ($11,567 USD) per year (1-2 years of experience). Contrarily, a senior-level call center manager makes an average salary of 8,795,700 HUF ($24,441 USD) and has at least ten years of experience. Based on educational qualifications with a high school diploma, a call center manager can make an average salary of 584,000 HUF per month ($19,548 USD per year). With a master's degree, a call center manager can expect to make an average salary of 10,177,900 HUF ($28,282 USD). A male call center manager in Hungary can expect to make an average salary of 7,105,200 HUF ($19,743 USD) yearly, while a female call center manager can expect to make about 6,768,400 HUF ($18,808 USD). This indicates that for doing the same job, a male call center manager makes about 5% more money than a female call center manager. 79% of employees who manage call centers report receiving bonuses in the last 12 months, making this a career with a large bonus base. But according to 21%, they didn't earn any bonuses in the previous year. The reported bonuses for the workers who had received a bonus in the previous year ranged from 5% to 8%.
Northern Europe
However, in Norway, Northern Europe, call center managers in junior positions typically earn 402,000 NOK ($39,215 USD) annually with a maximum of 2 years of experience. On the other hand, a senior-level call center manager has at least ten years of experience and earns an average income of 966,000 NOK ($94,233 USD). The annual compensation range for a call center manager in Norway is between 354,000 NOK ($34,532 USD)per year, with the minimum salary to the maximum ranging around 1,220,000 NOK ($119011 USD).
India
Unfortunately, for a country such as India, call center managers typically earn 890,909 INR ($10,787 USD) with 1-2 years of experience. People having 8-12 years of experience's salaries vary around 1,946,802 INR ($23573 USD). Similar to Hungary, men can expect better payment since a woman in India for the same position gets 1,517,846 INR ($18,379 USD), whereas men receive 1,955,052 INR ($23,673 USD).
Singapore and United Arab Emirates
On the contrary, the average pay base for a call center manager in Singapore earns $49,404 USD per year. Another well-paid country is the United Arab Emirates, with a minimum wage of 142,300 AED ($38,741 USD) and a maximum of 475,700 AED ($129,511 USD) per year. The average annual salary is 301,300 AED ($82,030 USD). Based on experience, a manager junior manager's wage approximate value is 161,600 AED ($43,996 USD) and a senior-level manager's salary reaches somewhere around 388,100 AED ($105,661 USD). With a high school diploma, a call center manager in the United Arab Emirates can make an average salary of 201,100 AED ($54,750 USD). an advanced degree. However, a person having a master's degree can expect to make an average salary of 447,700 AED ($121,888 USD). The pay gap between men and women is 8% in favor of men, in which case men make an average of 311,700 AED ($84,861 USD) per year, while female call center managers make about 288,700 AED ($78599 USD) per year.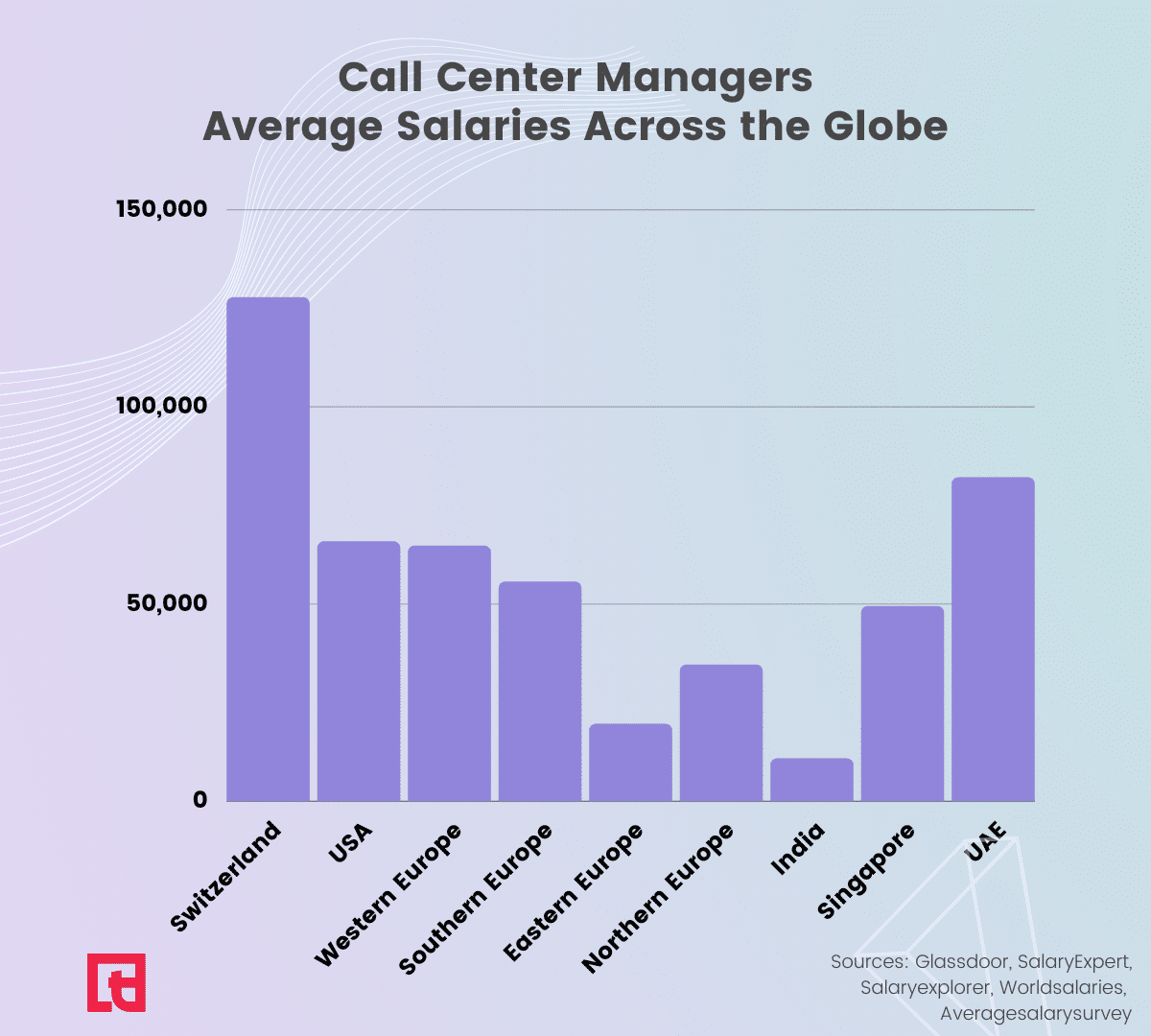 Are call center managers overpaid?
It is safe to say that being a call center manager in each country is well-paid in comparison with countries' average salary. Regardless of salary, the role of a call center manager is a critical one that requires strong leadership, organizational, and customer service skills. It is obvious that call center agent stress is a problem for the entire sector given that one study found that up to 74% of contact center employees may be in danger of burnout. Due to extraordinarily high turnover rates in contact centers, which range from 30 to 45% and are more than twice as high as the norm for all other occupations. What is more, call centers must pay more to hire new employees and retrain existing ones due to this staggering turnover rate. Statistics show that burnout causes people to be less productive, with an increase in sick days taken off 63%, six times more likely to be actively looking for another position, and 13% less assured in their ability to do their jobs well.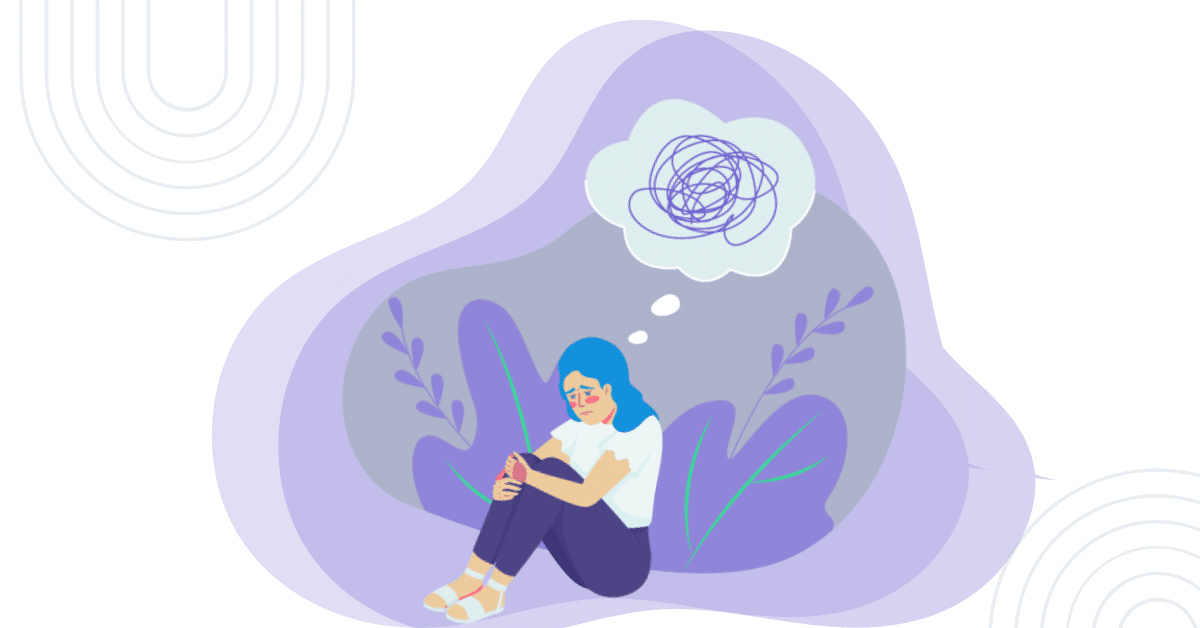 The Bottom Line
All in all, the size of the company, the sector in which it operates, the location of the position, experience, and education are just a few of the variables that can affect a call center manager's pay significantly. Call center managers should concentrate on honing their abilities, accumulating experience, and looking for chances in high-paying fields and places to increase their earning potential. To avoid burnout, handling sensitive client information or complex customer needs frequently calls for good psychological and emotional preparation