Nowadays, it is common practice for businesses all over the world to hire external companies to perform a task or service that is normally carried out by an organization's own employees. Usually, the outside vendor is hired to handle a few management-related tasks. In most cases, it is related to a lack of essential size, investments in internal expertise, or the requirement to purchase something rapidly on the market. The fundamental idea of why businesses choose to outsource is that external providers concentrate on the specific duties that have been entrusted to them and are able to complete them more quickly, inexpensively, and effectively than the company itself could.
Starting with some interesting statistics and predictions about the global outsourcing market, over $90 billion is the estimated market size for outsourcing services globally. Furthermore, the largest outsourcing market in the world is in the field of technology. Based on Grandview research, the global business process outsourcing market is expected to reach $525 billion by 2030. The Deloitte's Global Outsourcing Survey 65% of respondents said that outsourcing helps them focus on core functions.
Outsourcing is the practice of obtaining goods or services from an external source, typically a vendor or supplier, rather than producing them in-house. Outsourcing is a common business strategy that can bring numerous benefits, including cost savings, access to specialized expertise, and the ability to focus on core competencies. However, outsourcing also had the potential to adapt and change over the past few years.
The explosion of outsourcing in 2020
The COVID-19 pandemic has had a significant impact on the global economy and has caused many organizations to reevaluate their business strategies. Remote working and outsourcing had one of the biggest advancements, as companies seek to adapt to the changing economic landscape. According to some analysts, Covid-19 has accelerated digital transformation for international organizations by an average of 6 years in just a few months. Following the Covid-19 outbreak, 95% of IT professionals have seen their firms reevaluate their IT goals, and 63% of Fortune 500 CEOs anticipate that the 2020 crisis will spur tech innovation in business. What is more, this is exactly what happened between 2020 and 2021 after several years of single-digit growth, the worldwide IT outsourcing industry grew by approximately 13%.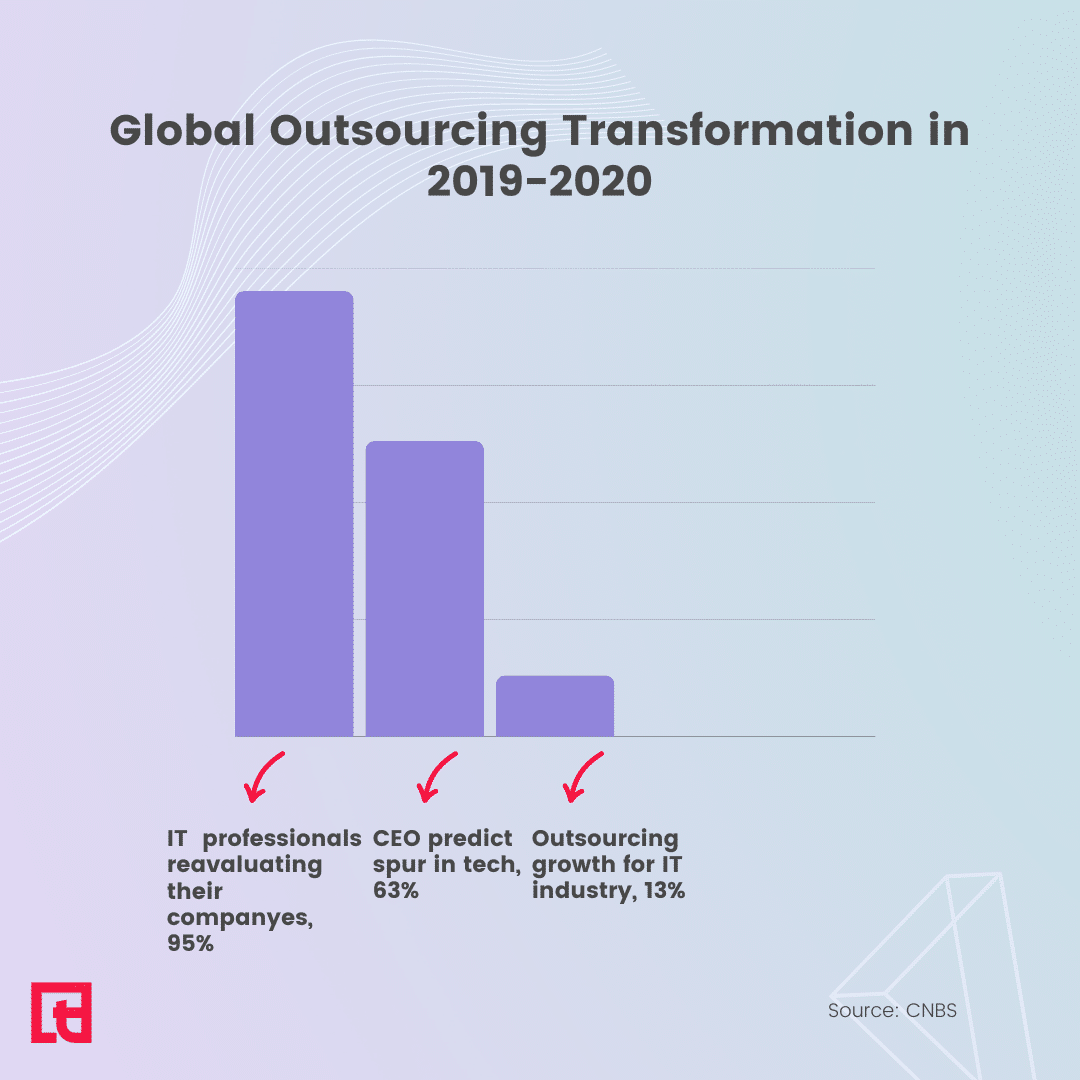 Even though there were some positive aspects of outsourcing during the pandemic in some areas, from a marketing point of view, outsourcing had dramatically decreased.
The industry decline of outsourcing in the near future
According to Statista, The number of marketing professionals outsourcing content marketing tasks fell 25% between 2019 and 2020. 40% of marketing professionals outsourced some of their content marketing in 2019, but just 30% did so in 2020. Furthermore, given that 80% of businesses do not intend to outsource any sales or marketing positions, we might observe an even greater decline. However, this industry is not the only one that will face difficulties in the future. The threat of automation affects more than 1 million outsourced jobs. Another shocking prediction according to Gartner is that by 2025, 60% of contracts for outsourcing finance and accounting will not be renewed.
Trends
Up till now the largest industry and business sector for outsourcing is information technology, with 37% of IT tasks being outsourced and an average IT department budget of 13.6% allocated to outsourcing. Even though the main idea of outsourcing is reducing costs and increasing effectiveness, with 59% of companies outsourcing to cut costs, the migrations, and possibilities of cloud services, IT outsourcing has evolved into more than just a straightforward method of cost reduction.
That is also the reason why, ever since the COVID-19 pandemic started, an increasing number of businesses have been attempting to become "cloud first." Although the vast majority of businesses are aware of the advantages of a cloud-first approach, data security concerns and other dangers prevent many from making the switch. What is more, 90% of businesses view cloud computing as a crucial enabler for their outsourcing initiatives.
Other IT teams are looking for outside solutions for cybersecurity due to a mix of budget constraints and staff reductions. 83% of IT professionals are considering outsourcing security going forward, despite the fact that 91% of them have their own internal security teams. These options come with some dangers, especially when it comes to safeguarding sensitive data, but they might aid in control and coordination. This is why security is listed as the top priority by 68% of these firms.
New Comeback Predictions
As previously said, the attention in the next 2 years is completely focused on the IT sector. What is more, 72% of all global outsourcing contract values are for IT services Information technology (IT) services accounted for $66.5 billion of the $92.5 billion in contracts that global outsourcing companies generated. The remaining $26 billion in total contract values were for business process outsourcing.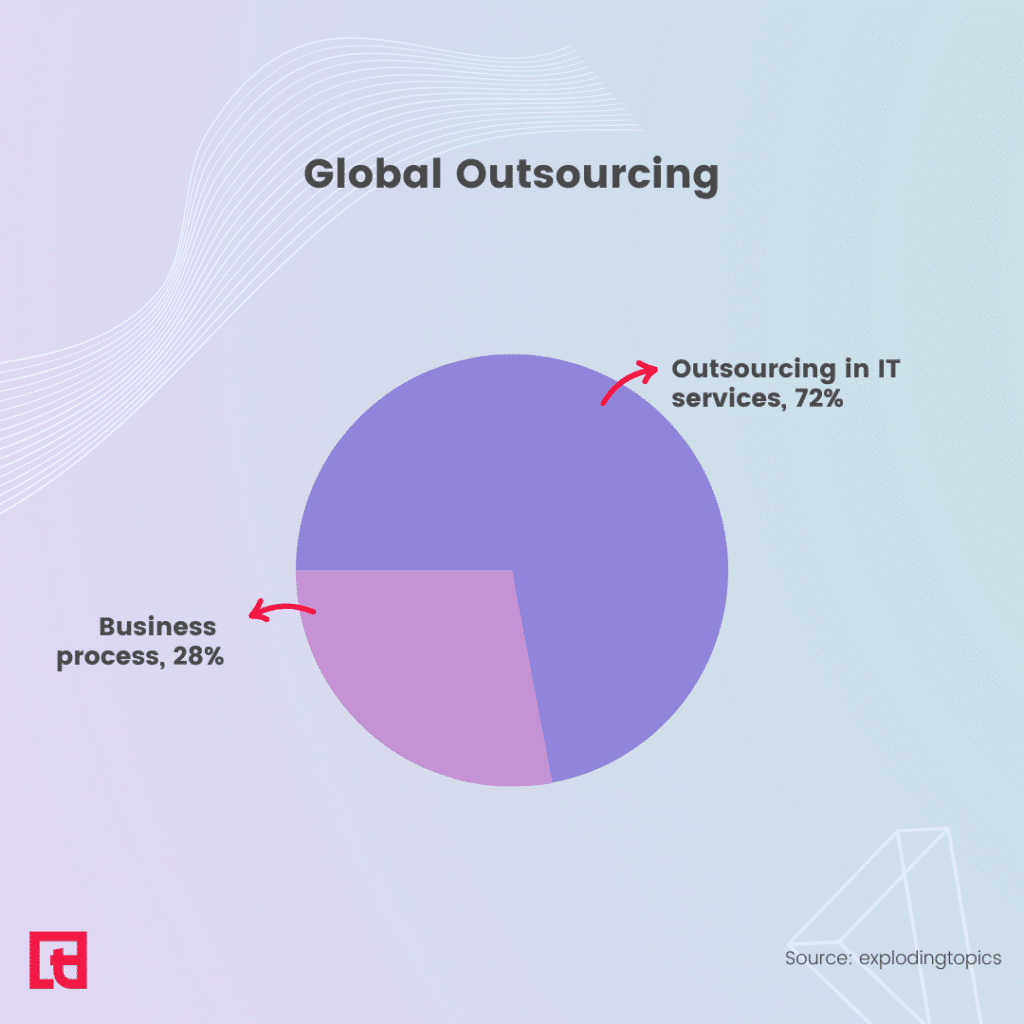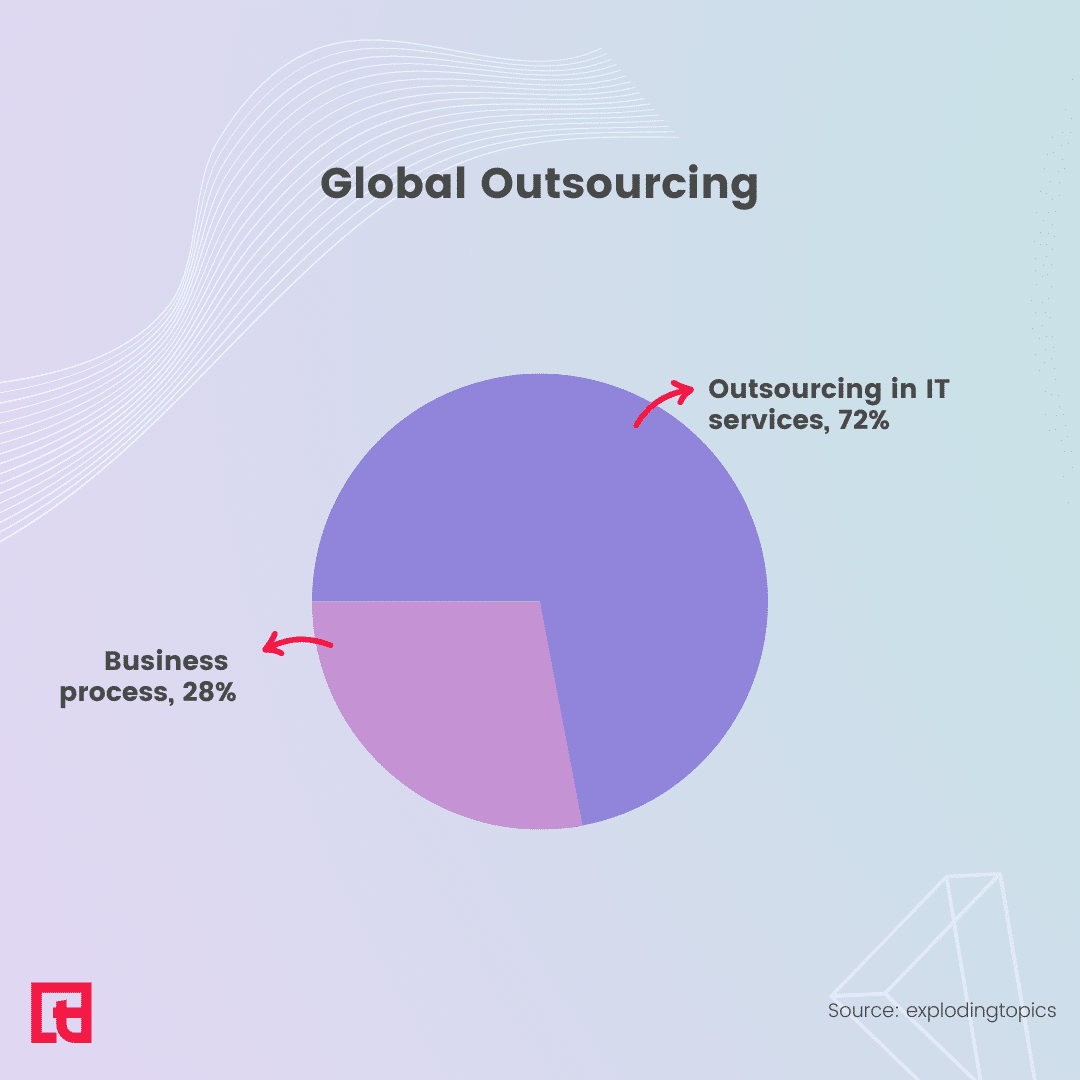 In spite of the fact that 59% of chief technology officers are not currently outsourcing software development or IT expertise and 43% have in the past but stopped, recent study by STX Next indicates that 89% of them expect to do so in the future. This suggests that business executives want to use IT outsourcing again. Additionally, GrandViewResearch estimates that the value of the global market for IT services was worth around $715.93 billion in 2020. The size of the world market for IT outsourcing (ITO) was estimated.
To Wrap Up
Companies can free up time and resources to concentrate on their core business operations by outsourcing non-essential work. Enhanced productivity and competitiveness may result from this. Additionally, it may have detrimental effects on the world economy, thus it is crucial for businesses to carefully weigh the potential negatives and make sure that any outsourcing arrangements are managed well.
Future forecasts indicate positive outcomes for the IT industry, particularly in light of the pandemic and the shift in IT outsourcing practices. However, due to the inability to introduce new services to the market, marketing and the financial sectors may experience a significant reduction.