In this guide, you'll learn
According to a Statista report, most people still prefer the phone as a channel for customer support. So what happens, when a customer calls a call center? 
When users contact your call center, they are sent to the first available customer support representative. However, there are occasions when the quantity of incoming calls surpasses the number of available representatives.
Calls from customers are automatically routed via a call queue depending on their call order. Until a customer agent becomes available, the caller keeps on hold until the call queue directs the customer to the representative. Queues allow a contact center to manage calls logically and efficiently.
What is Call Queuing?
Call queuing software is used to place calls in virtual queues in order to handle enormous call volumes in contact centers. It is common for numerous agents to receive many simultaneous calls to a single phone number or calling line. This means that a contact center with 50 agents may handle up to 50 calls at once. However, what happens if the volume of calls exceeds the number of customer agents assigned? This results in "call drops".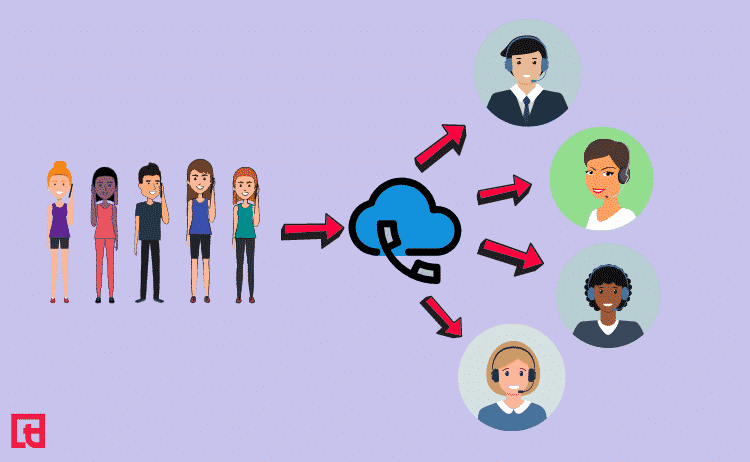 Call queueing avoids call drops by placing calls sequentially so that they can be answered as soon as the next available agent is free. Customers are assured they are in a queue and that the call will be answered soon. Additionally, callers may be advised if heavy call traffic is resulting in longer hold times and the estimated period that they must remain on the phone.
Increase revenues by growing customer satisfaction
Using call queues increases customer happiness and sales for businesses. In addition, they enable call centers to make the most of the resources they already have (agents). A lack of queueing calls means that call centers would have to recruit more staff during periods of heavy call volume. Call queues are used to keep callers waiting until the next available representative is available to serve them. All of the calls will be performed in this manner, and you can do it with the agents you now have on staff.
The use of call queues is also an excellent approach to split calls. With an IVR system, companies can help callers get to the relevant queues for speedy responses to their questions and concerns. IVR, or Interactive Voice Response, is a system that allows customers to submit their queries by voice or dial pads to get them to the correct queue. Queues are assigned to callers depending on their issues, language choices, or questions based on their queries. In addition to cutting down on wait times, this also helps callers get through to a live representative more quickly.
A step-by-step guide to call queuing system
When answering a call to your business, using the following key components will allow you to ensure your customers are being answered as efficiently and quickly as possible.
Step 1: Adhere to the business regulations
The timing of the call in respect to the predetermined business schedule is the first item a call queue "considers" before responding to a call.
Call queuing systems to follow a specific route depending on whether or not the call is answered:
Before or during regular working hours
During the week or the weekend
During a break
Step 2: Enable pre-recorded greetings
Businesses commonly use pre-recorded messages instead of regular phone rings when you contact them.
These messages, known as greetings, are played electronically whenever a call is received. A VoIP carrier's prerecorded message library can be used, or bespoke greetings can be created.
As an example, this kind of communication might include the following information:
Business name/hours of operation
IVR systems are used to gather client information
Current availability of agents
Preferences for a certain language
Music or messages like "Your call is essential to us. Stay on the phone" can be played
Step 3: Automated Call Distribution (ACD)
A business phone system component known as Automatic Call Distribution (ACD) takes all incoming calls and assigns them to the relevant customer service representative.
Using the First In, First Out (FIFO) approach, ACD connects a caller to an available agent by sending the first customer in the queue to the first available representative.
The significant difference between both ACD and IVR is critical to make clear.
Information gathered by IVR is used for call routing purposes (reason for the call, name, business unit, etc.) The ACD tool is responsible for directing these calls to the appropriate agent or division based on the data retrieved by the IVR.
Step 4: Routing the phone calls
Using call routing algorithms, the ACD system distributes calls to the appropriate agents.
For any call queue, call routing is a critical step in deciding which agent a customer will actually talk with.
The following are some of the most effective call routing strategies:
Calls are routed sequentially, starting at the top of the list and working their way down.
Calls are directed to agents based on their training and expertise (questions about account statements are sent to the billing department, while inquiries about technical issues are sent to customer service).
Calls are routed to agents who are accessible at the time of the call, depending on their local time zone.
To avoid overburdening agents, callers are assigned to one of three agents in a "round-robin" arrangement: Call 1 goes to Agent X, Call 2 goes to Agent Y, and Call 3 goes to Agent Z.
The call is routed to the representative who has remained the longest without talking to a client.
Step 5: Advanced Call Management
Advanced call management gives you more control over how calls are handled.
The following are some of the choices available:
IVR/multi-tiered IVR
The sound of many phones ringing at once
Sharing a contact info
Forwarding phone numbers to a different location.
Make a park/hot desking phone call
Step 6: Keeping an eye on both current and previous call queue data
Managers can learn a lot using real-time and contextual call queue analytics.
With real-time statistics, you can see how many callers are in wait, how long it takes for a customer to get through, and the number of agents present on the phone with a customer.
When queues can be optimized in real-time, it reduces the number of times customers have to wait and prevents overburdened employees.
Managers might need historical call queue data to better identify peak periods, reoccurring problems, and the best way to allocate agents.
These analytics can also be used by managers to analyze the productivity and performance of their agents and to uncover communication patterns.
Queue management capabilities such as automatic callbacks, remote call routing, and CRM integration are available in advanced VoIP and contact center solutions. It's time to stop depending on old technologies that don't suit the demands of your customers and switch to the right phone call queuing software.